I began riding at the age of nine and broke my first horses when I was sixteen. It was western riding that I was interested in from the beginning. After graduation and a stay on a New Mexico Ranch, where I learned to work with cattle, I started building the Flachsberg Ranch in Schwanewede and Oklahoma, USA with my former partner. From that time on my name has been linked to horses that dominated the reining-, cow horse- and cutting scene like Dixie Dee Bert, Refund Junior, Bonito Vaquero, Merada Chex, Docs Vaquero Chex and Machos Alibi, just to name a few. But it were the Horses Doc Chex (DQHA and NRHA Germany "Hall of Fame") and The Hollywood Man that wrote western riding history in Europe with me in the saddle and that are still famous in Europe through their offspring.I have won countless international and national titles. I was finalist Working Cow Horse at the AQHA World Show in Oklahoma City , with my horse Doc Chex, and being the first European competitor ever at that time turned the World Show into a real World Show.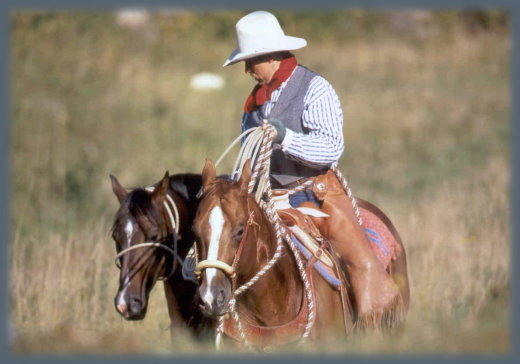 I won the NRHA Germany Futurity five times. I was member of the German National Equestrian Reining Team at The World Equestrian Games, in Jerez, Spain, 2002, where Reining was exhibited for the first time as an approved FEI discipline.
Another highlight of my career was the nomination as National Chief Coach of the German National Reining Team through the "German Olympic Committee of Equestrian Sports". During my service as chief coach of the German Reining Team, the German Riders have won thirteen team and individual medals at World-and European Championships. This includes 3 European Team Championship titles in 2007, 2009 and 2013. In addition, our "Young Riders" claimed the Gold Medal in the Team Competition in 2009. Also in 2009, Nina Lill has won the Gold Medal at the European Championship, as did Alexander Ripper in 2013.
For the achievements as chief coach for reining, the Deutsche Reiterliche Vereinigung bestowed the DEUTSCHE REITERKREUZ IN SILBER on me on the occasion of the European Championship 2015 in Aachen. With this, I am the first Western Trainer who was granted the award.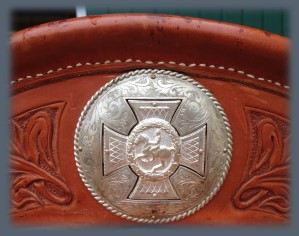 Aside from being chief coach, I served eight years as president for the NRHA Germany, the world's largest Reining Horse Association outside the USA. In 2015, I have retired from both positions to fully concentrate on what has been the passion of my entire professional life: The traditional training with Hackamore and Spade Bit. In 2017 I was inducted into the "Hall of Fame" of the NRHA Germany.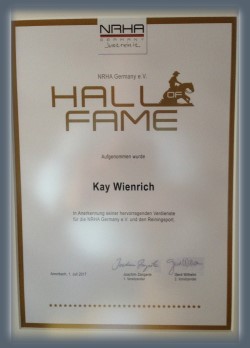 Many horses, that are successful today in shows and breeding as producers, are closely linked to me .Amateur riders as well as pros were influenced by me and coached for their future careers in the hors-business world. Nico Hörmann, who apprenticed five years with me at Flachsberg Ranch, which he finally took over in 2001 to become one of the most successful trainers in Europe in only six years time. Again it was Nico Hörmann who became Chief Coach of the German Reining Team after my retirement.
As of 2000, I established and ran a Quarter horse breeding and training facility in Southern France, until I returned to Germany in 2006. Today I train horses on the facilities of Family Albrecht, "AT Quarter Horses", in an area called Hunsrück. The ranch has an indoor arena of 25 x 50 m, and a round pen. Together with the beautiful surrounding country side, all requirements to start a future show horse or a horse for the aspiring hobby rider are fulfilled.
If you wish to learn more, or have your horse trained by me, I would be delighted to be contacted by you.